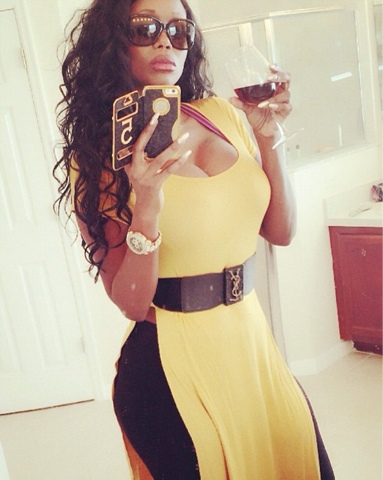 A mother-of-two who leads a luxurious lifestyle paid for by sugar daddies is appealing to British men to come forward and help contribute towards her daughters' private school fees.
Nina Peterson, 37, who lives in Florida, finds wealthy suitors to finance her extravagant purchases – which include a $40,000 (£25,000) Mercedes Benz as well as a Porsche Boxer and a Maserati.
Nina, who said she likes being looked after, wants to find a British sugar daddy to help pay for daughters Sky, 12, and Rose, nine, to attend a high-end school. She said she would encourage her girls to pursue wealthy men when they are older.
Nina, pictured with her two daughters Sky and Rose (right). The mother-of-two says her children have benefited from her sugar daddies, with one currently paying their school fees
Currently, one of Nina's rich suitors has forked out the $16,800 (£10,843) a-year fees for the private school they have attended for the past two years.
When it comes to type, Nina says so long as they are wealthy, the rest doesn't matter – and believes 'the older the better' when it comes to age.
She also said: 'The more a sugar daddy bonds with you, he feels more comfortable. They trust you eventually and then the sky's the limit.'
Nina's first sugar daddy was 62 when they met after her marriage broke down in 2007, and they had an arrangement for four years. The mother-of-two has also had ten short-term arrangements and four longer relationships over the past several years.
Nina regularly finds sugar daddies to finance her lifestyle and has had two long-term British sugar daddies despite living in the US because of a weakness for men across the pond.
She said: 'I really like them, they have a way about them that American women love.
'They're way more traditional than American guys. British men are looking at long-term relationships and they're willing to help.